Being a transplant from one country ( Philippines ) to another ( US ) I had my share of boo-boos or bloopers and/or funny memories that resulted either from my simple ignorance or from my American culture naivete. In time, I have learned to adapt, but these experiences surely continue to give me laughters.
Here is one of them:
TENNIS
In the Philippines, any type of sneakers is often called tennis, whether they are actually running shoes or basketball shoes, it is very common for them to be called simply "tennis". When I was still vacationing here in US, a friend aske me if I have brought with me tennis shoes so that I could join them for doubles. I assured my friend my readiness to play tennis by bringing my tennis shoes.
When I met the group, my friend just looked at me and silently whispered, "Betchai, you cannot play tennis, you do not have tennis shoes and what you wear have marking soles".
HUH?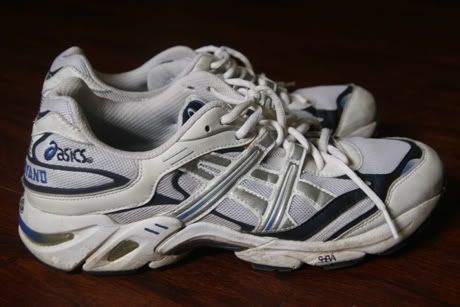 If These Are Not Tennis Shoes, What Are They?
In my mind I was thinking, "if what I wear are not tennis shoes, then, what are they?" It was my first time to hear someone telling me my tennis shoes are not tennis shoes because they have marking soles.
Okay, I must admit I was never a member of any tennis club in the Philippines, I just played with my co-teachers in our campus, which did not really ask us to wear the right "tennis shoes".
Okay, but there is one more funny addition to this tennis shoes. When I was in the Philippines, I found my tennis racket finally getting too old and was not giving me the power anymore. I asked one of my colleagues who plays tennis a lot, "Lan, do you have extra tennis racket? Can I borrow?" Poor Alan, he did not hear the racket, but only the tennis. The next day, he had a shopping bag full of his sneakers, telling me, "Betchai, pili lang di kung di-in ma-igo sa imo", in English it means, "Betchai, just choose which ones fit you." And I had to smile, I said, "But Lan, I asked if you have extra tennis racket", and he replied, "on my golly carabao, when I heard tennis, I thought of shoes! You should have just said, RACKET!!"
Uhhh, okay :) As you see, tennis for us is not always the tennis sport, it is the shoes!
Now, to answer the question in the picture's caption, those shoes are my old running shoes!
It's nice to laugh about our experiences sometimes, after all, laughter is our best medicine. So, more of my enculturation to come :)