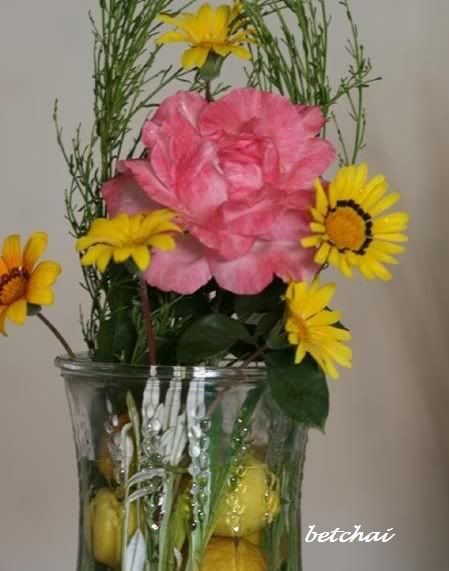 Our Own Garden Resources Used For This Flower Arrangement
Earth is facing many challenges right now, with her resources depleting. How can we contribute to conservation of our natural resources and minimize the production of greenhouse gases, even in just our own simple way? At home, we do the following:
1. We stopped the use of sprinkler since sprinkler does not aim the water 100% into desired area. Thus, we collect water from dishwashing, washing vegetables, fruits and rice, and use this recycle water to water the plants. When we started doing this, we saved more than $10 a month in our water bill.
2. We changed washer to high efficiency washer. The initial cost may be high but then, some cities, like San Diego, supports high efficiency machines. We submiited our receipt to the city and they gave us $150 rebate (at least 2.5 years ago when we bought high efficiency washer). When we changed our washer, we saved even more in water bill, in time, we know, the initial cost paid off.
3. We hang dry our clothes. We just see to it that our clothesline is not seen by neighbors at all, that it is well hidden at the back of our house and the line is not taller than the fence. To minimize wrinkles, we flatten the clothes with our hands before hang-drying them. We also fold the clothes neatly before ironing. By the time we iron them, the wrinkles are not that much that the clothes hardly need ironing at all. The time we spent on flattening the clothes with our hands before hang-drying and folding them saves us time from more thorough ironing. Thus, hang-drying and less ironing saves us money on not paying a lot of money for energy bill, and it also saves California from burning too much fuel for power.
4. We avoid using the central heater. We use portable heater instead to avoid heating the whole house. There's only the two of us in the house, why heat up all rooms when we stay only in one room (either the living room or our bedroom) most of the time? This saves us about $50- $70 a month on winter time, also, saving California from burning too much gas, less greenhouse gas in the air.
5. During winter when it is cold, we use the greenhouse effect. On daytime, we open the blinds but not the glass window to let the heat come in. Shorter wavelength energy gets inside glass but the longer wavelength is trapped inside, the glass window acts as one way valve for heat flow. This process warm the house while we are at work. At night, when we get home, we dont need as much heating because of the greenhouse warming.
6. During summer when it is warm, we semi- closed the blinds at daytime but open the window to let the cool breeze come in as our natural airconditioner. Then, when sun sets, we open the windows and blinds to let the cooler breeze come in that cools down the house to a low that when the sun comes in again the next day, it is still cool enough to combat the warm day. This cycle saves us a lot on gas bills. We probably only have to use AC 3 times or 4 times in one whole year. There were some years we never had to use AC at all. And no, we are not suffering from heat and humidity.
6. We recycle. Thankfully, both our city and State is heavy into recycling and we do get about $15 every 2-3 months from our recyling. Nice :)
It may appear that it takes time and effort and it takes probably committment to continuously do these, but the reward is, you are not only helping Mother Earth, but you are also saving money :)